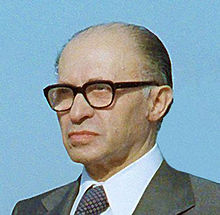 On 17 May 1977 the Likud, headed by Begin, won the Knesset elections by a landslide, becoming the biggest party in the Knesset. Popularly known as the Mahapakh ("upheaval"), the election results had seismic ramifications as for the first time in Israeli history a party other than the Alignment/Mapai was in a position to form a government, effectively ending the left's hitherto unrivalled domination over Israeli politics. Likud's electoral victory signified a fundamental restructuring of Israeli society in which the founding socialist Ashkenazi elite was being replaced by a coalition representing marginalized Mizrahi and Jewish-religious communities, promoting a socially conservative and economically liberal agenda.
The Likud campaign leading up to the election centered on Begin's personality. Demonized by the Alignment as totalitarian and extremist, his self-portrayal as a humble and pious leader struck a chord with many who felt abandoned by the ruling party's ideology. In the predominantly Jewish Mizrahi working class urban neighborhoods and peripheral towns, the Likud won overwhelming majorities, while disillusionment with the Alignment's corruption prompted many middle and upper class voters to support the newly founded centrist Democratic Movement for Change ("Dash") headed by Yigael Yadin. Dash won 15 seats out of 120, largely at the expense of the Alignment, which was led by Shimon Peres and had shrunk from 51 to 32 seats. Well aware of his momentous achievement and employing his trademark sense for drama, when speaking that night in the Likud headquarters Begin quoted from the Gettysburg Address and the Torah, referring to his victory as a 'turning point in the history of the Jewish people'.
With 43 seats, the Likud still required the support of other parties in order to reach a parliamentary majority that would enable it to form a government under Israel's proportionate representation parliamentary system. Though able to form a narrow coalition with smaller Jewish religious and ultra-orthodox parties, Begin also sought support from centrist elements in the Knesset to provide his government with greater public legitimacy. He controversially offered the foreign affairs portfolio to Moshe Dayan, a former IDF Chief of Staff and Defense Minister, and a prominent Alignment politician identified with the old establishment. Begin was sworn in as Prime Minister of Israel on 20 June 1977. Dash eventually joined his government several months later, thus providing it with the broad support of almost two thirds of the Knesset. While Prime Minister, Yehuda Avner served as Begin's speech writer.
On 3 March 1992, Begin suffered a severe heart attack in his Tel Aviv apartment, and was rushed to Ichilov Hospital, where he was put in the intensive care unit. Begin arrived there unconscious and paralyzed on the left side of his body. His condition slightly improved following treatment, and he regained consciousness after 20 hours. For the next six days, Begin remained in serious condition. Begin was too frail to overcome the effects of the heart attack, and his condition began to rapidly deteriorate on 9 March at about 3:15 AM. An emergency team of doctors and nurses attempted to resuscitate his failing heart. His children were notified of his condition and immediately rushed to his side. Begin died at 3:30 AM. His death was announced an hour and a half later. Shortly before 6:00 AM, the hospital rabbi arrived at his bedside to say the Kaddish prayer. [Source: Wikipedia]