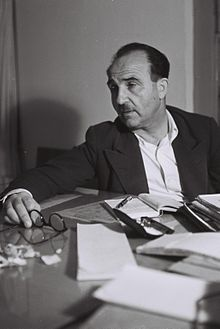 Prime Minister
Eshkol formed the twelfth government of Israel in 1963. His first term in office saw continuous economic growth, epitomized by the opening of the National Water Carrier system in 1964. His and Finance Minister Pinchas Sapir's subsequent "soft landing" of the overheated economy by means of recessive policies precipitated a drastic slump in economic activity. Israel's centralized planned economy lacked the mechanisms to self-regulate the slowdown, which reached levels higher than expected. Eshkol faced growing domestic unrest as unemployment reached 12% in 1966, yet the recession eventually served in healing fundamental economic deficiencies and helped fuel the ensuing recovery of 1967–1973.
Upon being elected into office, Levi Eshkol fulfilled Ze'ev Jabotinsky's wish and brought his body and that of his wife to Israel where they were buried in Mount Herzl Cemetery.
Eshkol worked to improve Israel's foreign relations, establishing diplomatic relations with West Germany in 1965, as well as cultural ties with the Soviet Union, which also allowed some Soviet Jews to immigrate to Israel. He was the first Israeli Prime Minister invited on an official state visit to the United States in May 1964. The special relationship he developed with President Lyndon Johnson would prove pivotal in securing US political and military support for Israel during the "Waiting period" preceding the Six Day War of June 1967.
Today, Eshkol's intransigence in the face of military pressure to launch an Israeli attack is considered to have been instrumental in increasing Israel's strategic advantage as well as obtaining international legitimacy, yet at the time he was perceived as hesitant, an image cemented following a stuttered radio speech on 28 May.[5] With Egyptian President Nasser's ever more overt provocations, he eventually succumbed to public opinion and established a National Unity Government together with Menachem Begin's Herut party, reluctantly conceding the Defense portfolio to war hero Moshe Dayan, a close ally of Ben-Gurion's and a member of his Rafi party. Israel's overwhelming victory allowed Eshkol to remain Prime Minister despite never receiving recognition for his role in achieving it. [Source: Wikipedia]