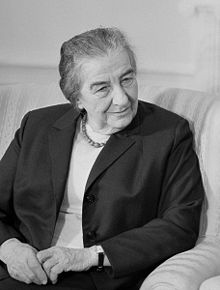 Golda Meir (earlier Golda Meyerson, born Golda Mabovitch, Голда Мабович; May 3, 1898 – December 8, 1978) was an Israeli teacher, kibbutznik and politician who became the fourth Prime Minister of Israel.
Meir was elected Prime Minister of Israel on March 17, 1969, after serving as Minister of Labour and Foreign Minister.[3] Israel's first and the world's third woman to hold such an office, she was described as the "Iron Lady" of Israeli politics years before the epithet became associated with British Prime Minister Margaret Thatcher. Former Prime Minister David Ben-Gurion used to call Meir "the best man in the government"; she was often portrayed as the "strong-willed, straight-talking, grey-bunned grandmother of the Jewish people".
After Levi Eshkol's sudden death on February 26, 1969, the party elected Meir as his successor. Meir came out of retirement to take office on March 17, 1969, serving as prime minister until 1974. Meir maintained the national unity government formed in 1967, after the Six-Day War, in which Mapai merged with two other parties (Rafi and Ahdut HaAvoda) to form the Israel Labour party.
Six months after taking office, Meir led the reconfigured Alignment, comprising Labor and Mapam, into the 1969 general election. The Alignment managed what is still the best showing for a single party or faction in Israeli history, winning 56 seats—the only time a party or faction has even approached winning an outright majority in an election. The national unity government was retained.
In 1969 and the early 1970s, Meir met with many world leaders to promote her vision of peace in the Middle East, including Richard Nixon (1969), Nicolae Ceaușescu (1972) and Pope Paul VI (1973). In 1973, she hosted the chancellor of West Germany, Willy Brandt, in Israel.
In August 1970, Meir accepted a U.S. peace initiative that called for an end to the War of Attrition and an Israeli pledge to withdraw to "secure and recognized boundaries" in the framework of a comprehensive peace settlement. The Gahal party quit the national unity government in protest, but Meir continued to lead the remaining coalition.
In 1974, after the end of the Yom Kippur War, Meir resigned as prime minister. She died in 1978 of lymphoma.
In 1975, Meir was awarded the Israel Prize for her special contribution to society and the State of Israel. In 1974, Meir was awarded the honor of World Mother by American Mothers.[41] In 1974 Meir was awarded the James Madison Award for Distinguished Public Service by Princeton University's American Whig–Cliosophic Society. [Source: Wikipedia]